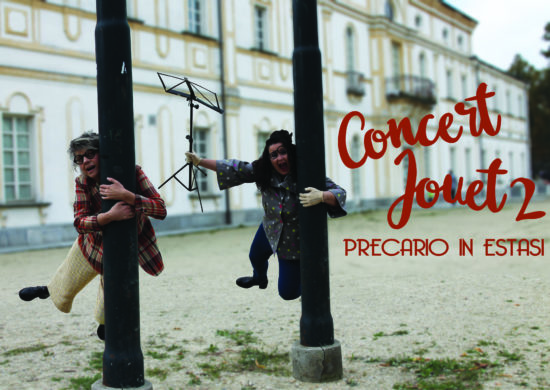 " PRECARIO in ESTASI "
Come interpretare generi musicali così definiti e accademici con l'apparente desiderio di far bene,ottenendo invece l'effetto opposto!
Dopo aver collaudato la collaborazione nello spettacolo Concert jouet 1 che ha esordito nel 2016 , il duo voce e violoncello si cimenta ora , in un secondo lavoro, sperimentando la lettura di numerosi generi musicali (classica,musical,new age, musica polifonica,duetto) nel tentativo di darne una loro speciale e originale lettura.
Il loro contributo sarà decisamente sopra le righe inaspettato e fuorviante (con un elemento di teatro di figura che entrerà prepotentemente in scena) ma nel contempo mostrerà angolazioni diverse , facendo intuire come anche in linguaggi musicali serie e pomposi ,si nasconda sempre una vena di precarietà, goffaggine e brillantezza. Lo spettacolo è stato allestito nel 2020 , ed ha visto la sua prima esibizione nel 2021 .
Regia Luisella Tamietto
con Paola Lombardo -voce
Paola Torsi-violoncello
elemento di teatro di figura Cristiana Daneo
Partecipazione alle musiche di Matteo Cotti ,voce fuoricampo di Rebecca Viora-Scenografie de Officina Cecchi Point Torino
Link al video trailer https://vimeo.com/643681932 TRAILER cj2.mp4 su Vimeo
How to interpret musical genres that are so academic and well defined, with the seeming intention to do it well, while getting the opposite result instead!
Having tested our previous cooperation in the show: "Concert Jouet" which had its debut in 2016. The voice and cello duo (Lombardo/Torsi) engages this time in a new show. Performing several musical genres (Classical, Musical, New Age, Polyphonic Music, Duet).
Thus is born, in September 2021, the musical show: "Concert Jouet 2: Temp in Ecstasy".
The duo will contribute to the definition of these genres in an original and over the top style. Unexpected and misleading (with elements of puppet theatre which will be strongly present on stage). But at the same time, it will show different perspectives. Suggesting how even in serious and pompous musical languages, always hides a vein of precariousness, clumsiness and brilliance.
Direction: Luisella Tamietto
Voice: Paola Lombardo
Cello: Paola Torsi