CONCERTO GIOCATTOLO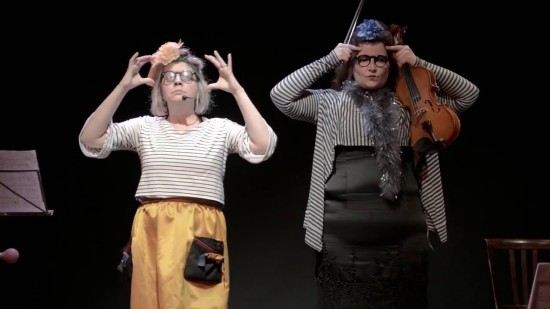 CONCERTO GIOCATTOLO 
Concert mi-sérieux ( plus semi que sérieux) au travers de la voix et du violoncelle 
L'a peu près  devient règle , les accidents la constance , le fait de se préparer à la dernière minute , l'absolue normalité…
D'ailleurs,  se sent- on vraiment prêt pour une exhibition ?
Spectacle musical farfelu  au travers de la voix et du violoncelle, sans les règles  qui unissent  musique et du comique à la recherche d'un équilibre constamment  en danger.
 CONCERTO GIOCATTOLO A  semi-serious concert for voice and cello; directed by Luisella Tamietto (Cirko Vertigo, Grugliasco, Italia)
It's an odd concert on the verge of becoming precarious and unpredictable. I added various links below.
I wish you an entertaining evening and a good viewing!!
 CONCERTO GIOCATTOLO  a semi-serious concert for voice and cello. Approximation becomes the rule, last-minute making do becomes the norm. After all, when is anyone really ready to perform?
An odd concert for voice and cello that brings music and physicality together in a constantly perilous balance…